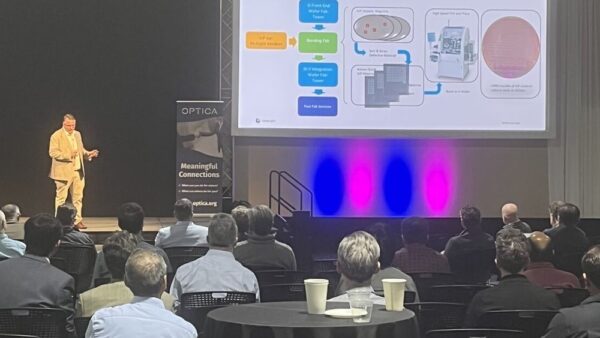 Press releases
Dr. Adam Carter speaking at the Optica PECC Industry Summit at Juniper Networks.
Dr. Adam Carter was a guest speaker at the Optica, Photonic-Enabled Cloud Computing (PECC) Industry Summit last week, held at the Juniper Networks, Aspiration Dome in California.
"We are getting a 99% yield in our PASICs and addressing up to 8 different market segments, as the demand for integrated, silicon photonics lasers increase." said Adam Carter. He made the statement whilst presenting OpenLight's developments in heterogeneous, laser integration in silicon at the conference. He also showed the latest results achieved through the company's differentiated, PASIC solutions – all part of its drive to bring photonics design to the masses.
The Optica PECC summit focuses on innovations and deployments of optics in datacenter applications. It partnered with the Advanced Photonics Coalition (APC, previously COBO) to host the PECC Industry Summit.
Discussion topics at the conference included:
The need to anticipate and manage the growing energy demands of datacenters as a result of the increased use of AI. This follows the announcement at OFC that the energy used in a ChatGPT search is six times more than a Google or Bing search. 
New materials which improve speed and power consumption in datacenters, such as Lithium Niobite, Polymers, Plasmonics, as well as the potential use of chiplet technology.
Efficient use of light sources in reducing power consumption.
For more information about Optica PECC...
More Press releases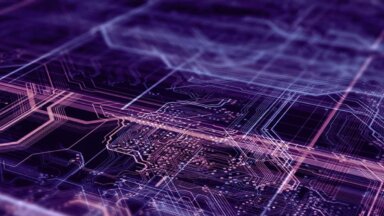 Nov 2023
How OpenLight and Synopsys are reimagining datacenters through silicon photonics
Steven Alleston, business development director at OpenLight, co-authored this article with Jigesh K. Patel and Keivan Javadi Khasraghi of Synopsis.
How OpenLight and Synopsys are reimagining datacenters through silicon photonics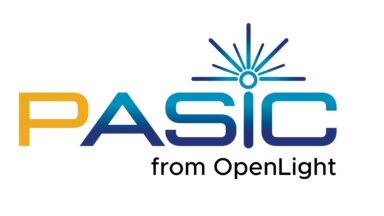 Oct 2023
OpenLight Introduces Fully Integrated 2xFR4 PASIC Samples for Next-Generation Connectivity
Industry-Leading Heterogeneous Integration of Lasers and Electro-absorption Modulators Simplifies Customer Product Development
OpenLight Introduces Fully Integrated 2xFR4 PASIC Samples for Next-Generation Connectivity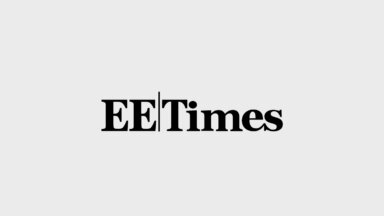 Sep 2023
OpenLight discusses silicon photonics on Embedded Edge podcast
We talk to Adam Carter, CEO of OpenLight, on its open silicon photonics platform with integrated lasers and addressing the challenge of delivering…
OpenLight discusses silicon photonics on Embedded Edge podcast