# PASIC - Photonic application-specific integrated circuits.
Electronic design engineers have been producing ASICs for many years. Application Specific Integrated Circuits are central to the operation of most of the electronic products and computers used today, optimising performance, cost and efficiency.

PASIC's are the photonic equivalent!
Photonic Application Specific Integrated Circuits are central to photonics-based design, both now and in the future, for the same reason as ASICs. OpenLight is bringing PASIC design to the mass market, with its PDK, production services, and a wealth of PASIC support tools, such as Evaluations kits and PDK Samplers.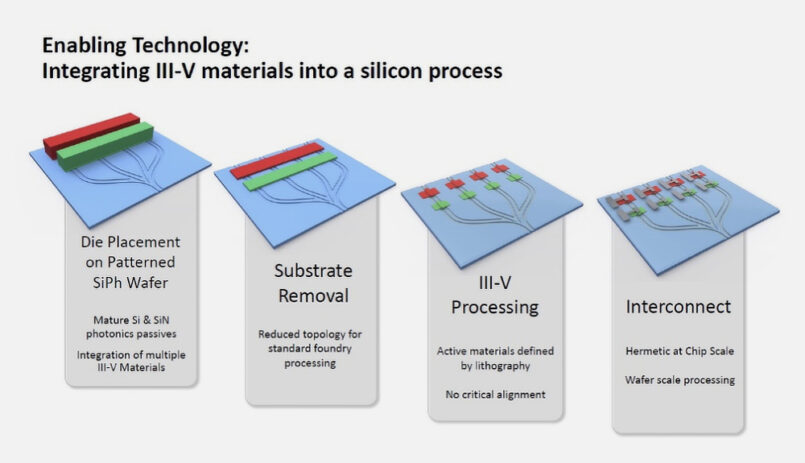 OpenLight's technology integrates optical gain on-chip, so there is no need to purchase separate lasers or add complex, expensive, external laser coupling into the silicon photonics, PASIC designs. With OpenLight, customers can quickly enter new markets faster by designing PASICs to their own specifications using industry standard PDKs.

OpenLight's open platform approach allows customers to design and build solutions to meet exact specifications, enabled by integrated lasers and using industry-standard design tools; scalable silicon foundry manufacturing; and wafer level test capabilities.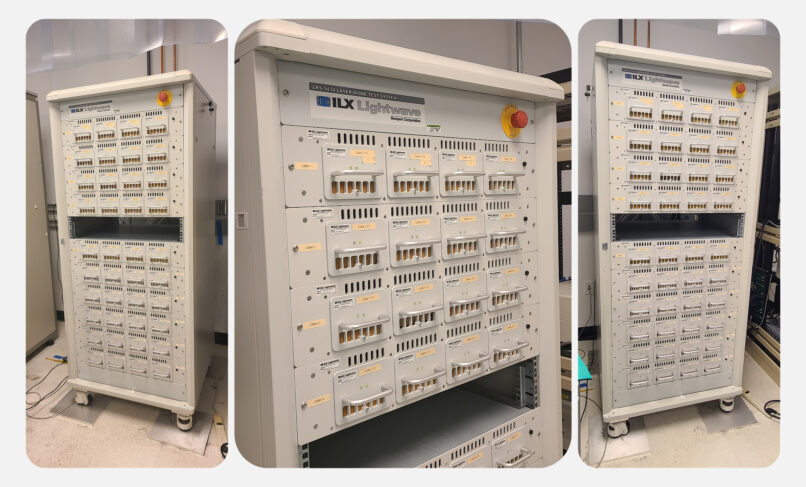 # Unique technology
Customers can choose to design a PASIC chip for themselves, using OpenLight's PDK. Alternatively, work with our in-house, design services team, where we design the PASIC for you. Either option offers a complete library of tested and proven components for faster and more reliable design and fabrication, helping bring your products to market as quickly as possible.

Low light loss, latency and reduced power consumption are standard in OpenLight's unique PASIC.

The coupling efficiency of OpenLight's PASIC, with the laser onboard, is more than 90%. Coupling efficiency is a measure of silicon photonics' systems, light loss and latency. A figure of 90% is significantly better than any current system using externally coupled lasers, fitted to the silicon photonics chip as part of a post-manufacturing, assembly process – the current standard approach in the industry.
PASIC modulation is also part of the PASIC's InP (Indium Phosphide), onboard integration. This replaces fitting a separate, silicon-based modulator later on and significantly reduces the power required to drive the resulting PASIC. A major benefit!

Production simplicity is at the heart of OpenLight's PASIC reliability.
OpenLight's unique PASIC has all the passive and active components onboard the silicon photonics chip. These include the electro-absorption modulators (EAMs), lasers, optical input/outputs and all the passive components. This single chip approach vastly reduces the assembly steps required to produce the PASIC. Less can go wrong and so the reliability, quality and yield of the PASIC increases.
OpenLight's PASIC eliminates the need for etched and coated facets on the lasers. This removes a production step that risks optical mirror damage and is a common cause of component failures. The InP-based epitaxy used in the laser design is also screened and checked for defects before being bonded to the silicon. This means, if a failure does occur, its spotted early enough to avoid ruining the entire assembly.
OpenLight's PASIC costs are reduced because the active and passive components are integrated and not assembled post manufacture. The PASIC production process is shortened and simplified as a result and the PASIC is far simpler to silicon foundry scale. Optical channel density is also increased, without a linear increase in the PASIC's footprint, improving efficiency as the PASIC increases performance.
# Patents
OpenLight has over 300 patents, with another 150 still pending, covering PASIC technology and the integration of many different active and passive components onto a single, silicon photonics chip. The active components, such as lasers, modulators and optical amplifiers, are coupled within the chip to 'passive' components, such as waveguides, splitters and receivers. They are all integrated into the same silicon and only require to be coupled out of the chip for integration into their intended application. This single chip concept vastly reduces manufacturing and assembly costs, by removing less reliable manufacturing processes altogether, such as aligning external lasers to waveguides.
# Datacoms PASICs
Datacenters typically rely on bandwidths of 400G per port, for the transmission of data. 800G per port will be required soon, increasing to 1.6T and 3.2T before 2030.
Conventional optics and pluggable transceivers find bandwidths of this scale extremely challenging to deliver, due to the number of components in the silicon photonics chips and the complex manufacture and assembly required.
OpenLight's onboard, silicon photonics modulator design supports the scaling necessary for these rapidly increasing bandwidths.
OpenLight has a current PASIC design which is delivering 200Gbps per channel, achieving 800G or 1.6T and beyond, by running multiple 200G designs, simultaneously on the same PASIC.
The bandwidth of each port can be doubled using a new, InP-based modulator, designed with OpenLight's PDK for manufacture on Tower Semiconductor's PH18DA platform.
The new modulator will double PASIC speeds, without doubling their cost or size. For example, a PASIC with 4 x 200G (800G) channels can be increased to 4 x 400G (1.6T) or 8x 200G, with a simple change to the dimensions of the modulator. The overall PASIC size, however, does not double due to the efficiencies of scale and the manner in which the OpenLight PDK optimises the PASIC layout.
'Early access' packages for OpenLight's new 224G modulator are being made available to customers wishing to incorporate them in their own PASIC designs. Evaluation tools are also available to allow customers to test their own modulator design.
# OpenLight's PDK
Unparalleled design performance.
With OpenLight, customers can access integrated, photonics solutions for high channel count applications with improved performance, power, efficiency and reliability. By building the world's first open silicon photonics platform, with integrated lasers and active devices, OpenLight is placing advanced designs in the hands of innovators to address multiple applications, including datacom, telecom, LiDAR, healthcare, HPC, AI, and optical computing.
OpenLight is also working with innovative, silicon photonics design houses and startups, spun out of universities, to licence original design IP, porting component designs into the PDK.
Contact us